this is what aaron got me...and he says it isn't the last gift...*YAYY!!!* call me shallow, but which girl doesn't like presents? =P and although most guys won't admit it, if u forget their birthday they'll sulk quietly too..hehe..
i call my pig dumpling...*yes i still name my cuddlies* and aaron says it looks like me..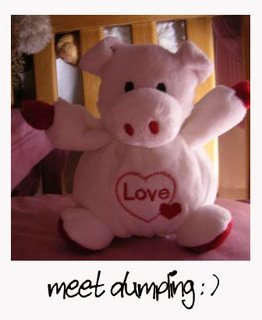 someone accidentally dropped Dumpling in the icing on my cake and he had red marks on his back..but jo and steph quietly sneaked him into the bathroom and with the help of ALOT of tissue and water and soap, they had him sparkling white again..!!! awww..thank u guys...=)

and this is what my dear friends got me..they threw their money together and bought me a DKNY BE DELICIOUS PERFUME!!!! i love!!!! i've wanted this perfume ever since i smelt it on a free sample in a magazine...and it smells EVEN BETTER now..!!

THANK YOU AGAIN, EVERYONE!!! I LOVE YOU ALL!!!! and i appreciate everything...EVERYTHING you've done for me throughout these years...we've been through alot, haven't we...=) which only makes us stronger...*hugs*